About Sprout Queen - Chris Lindsey

In February 2009, I took Hippocrates Health Institute's Raw Cuisine & Sprouting Lecture with their Master Grower & Greenhouse Manager, Michael Bergonzi. My main purpose was to learn how to grow wheatgrass for my beloved children (rescue cats). The bonus was learning how easily you can sprout and incorporate raw foods into your diet!



Casper (pictured on the right) wasn't interested at first in the wheatgrass and I couldn't stomach it juiced so I stopped growing it. I continued to sprout alfalfa and broccoli and grow sunflower greens. After a summer hiatus, I started sprouting and growing sunflower greens again in October. Having befriended Michael Wallace of Pine Island Botanicals, Inc by this time, he offered to sell any extras I might have at a local farmer's market. Who knew they would be such a hit!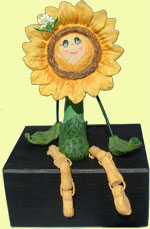 So in December 2009, Sprout Queen came to life. Turns out she had been sitting on the edge of my bookcase (being a Sunflower Shelf Sitter) for years just waiting for her debut. Each week I am able to offer our customers freshly harvested organic alfalfa, broccoli, fenugreek, radish, and red clover sprouts sprouted using sprouting jars and a misting system. I also have a weekly crop of sunflower greens and wheatgrass grown in seed trays with nursery grade potting soil. Wheatgrass is available prepackaged or in trays for those who like to juice it freshly cut.

As I continue with my small business web design business, I enjoy helping to expand both my sprout business and Michael's organic produce to the surrounding community. Our goal is to help people incorporate flavorful, colorful, and nutritious locally grown food back into their and their pets' lives.